About me
Fuzzbutt has been trading since June 2006 and is solely operated by me (Rache). I live in a sleepy Norfolk village where I maintain the website, buy all the fabrics, deal with all the sales and correspondence and sew Plammocks, 'Homer' gear, Cheezwedges, Standard Cubes and Cage Condos. My other products are currently being sewn for me by some UK based seamstresses, which greatly eases my stress levels! I also work 4 days a week in an Admin/web job, so Fuzzbutt is done on evenings, weekends and Fridays. Below is one of the very first cubes I sewed - oh dear!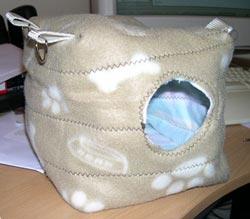 I started Fuzzbutt when I wanted to learn to dressmake and my mum gave me an old domestic sewing machine. I attempted to make some stuff for my ratties which were hilariously bad, so after 6 months of research, development, temper tantrums, pinpricks and testing, Fuzzbutt launched and has been trading successfully ever since.
Each Fuzzbutt creation is individually hand-made and will also have it's own special label, so you will know when you buy an original. Accept no substitutes! I've always tried to make products that weren't already "out there" and as a result, the Corner Crush, Cage Condo, PumpkinCube and Plammock® were born. I have many more ideas but just no spare time to develop them :(
All my products are robust and sewn on an industrial machine with stronger thread, they withstand many a boil-wash. I strive to always find the funkiest fabrics and I place the safety of your Fuzzy as priority, with no loose ends or threads, fully stitched inner seams, and all webbing hangers sealed and hidden from curious teeth.
I love to see pics of your Fuzzies enjoying their gear, so please email me your pics and/or upload them to my busy Facebook page,Facebook group, Twitter or Instagram. Any feedback you have on my products and service is also greatly appreciated.
When I am not glued to my sewing machine I enjoy sci-fi costuming & movies, crochet, car photography (portfolio HERE), gardening, WW2 aviation, sports cars, and all forms of motorsport. I enjoy travelling and always try to go off the beaten track. In 2012 I went Parahawking in Nepal, an unforgettable experience.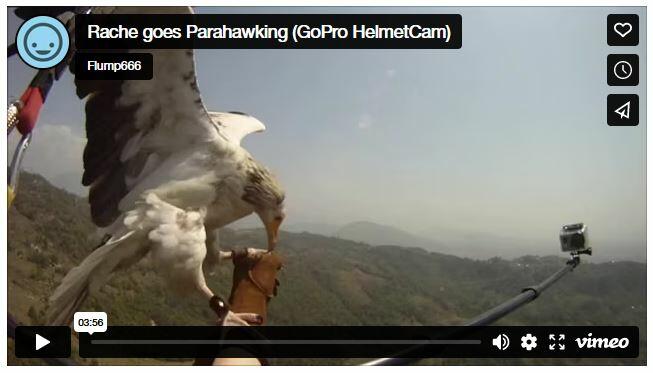 In December 2015 I was very lucky to be able to walk the red carpet at the European Premiere of The Force Awakens at Leicester Square, London. I donned my Sandtrooper armour and had the most amazing 20 minutes parading in front of the world's press and hundreds of fans. An evening I'll never forget. You can watch a video of us parading here.